Shop our Award Winning Fruit & Herb Vinegar and Jam collections
Womersley products have won numerous awards including many Great Taste Awards
Awards are nice, but we are equally proud of what our loyal customers are saying
★★★★★

Fabulous product. Tastes great. The perfect level of sweetness. Good texture to drizzle on dishes. Goes very well in salads as a dressing or just on its own with olive oil and bread! The bottle looks very nice on the table. Definitely worth paying the price!

Ruzanna
★★★★★

We LOVE this vinegar as though it is our life blood! And it is seriously wonderful on a simple chicken salad, guests always ask about the taste and I give a bottle of it to friends for Christmas. Better than chocolate! I can't live without it.

Georgiana
★★★★★

Have used this for several years now since first trying it at the Abergavenny food festival. I couldn't imagine a better dressing on any salad and summer evening meal. The whole range is just great. Also (and somewhat unusually for me) I really like the Apache Chilli as well. Highly recommend the product and the company.

Matthew
★★★★★

I have been a Womersley vinegars fan for nearly 20 years. They have been so well received by my guests, that they are now a standard gift to my girlfriends. I've bought most of the various fruit flavours, but the Raspberry and Chilli is now my first favourite. Thanks to Rupert and all at Womersely Foods for such stunning products.

Vicki
★★★★★

Absolutely the best Raspberry Vinegar. The Raspberry Vinegar is always good. The Womersley's Raspberry Vinegar is absolutely the best!

Pamela
★★★★★

A Fruit Vinegar Devotee
I love ALL these fruit vinegars. Not only do I use them in my savoury dishes, but also in desserts. Simply add Cherry or Raspberry to Plain Greek Yoghurt....delicious.
Lemon, Basil, Bay and Juniper makes a lovely marinade for Sea Bass.

Eileen
★★★★★

Bursting Berries
This jam is bursting with gorgeous blackcurrants which has the most fantastic flavour and with the rosemary as well . What a lovely combination of flavours . Proper home made jam. Will buy again.

Jenny
★★★★★

Chef School Recommendation!
Having sampled these oils and vinegars at a cookery school I knew I had to have them in my collection. Incredible products, totally different from anything made commercially. I will endeavour to build up my range of Womersley produce for the most exciting larder in town. The cookery possibilities are endless. Thank you.

Gill
★★★★★

Gorgeous vinegar..!!
I absolutely adored this vinegar, gorgeous either on it's own or mixed with a little olive oil it makes the perfect salad dressing..!!

Pam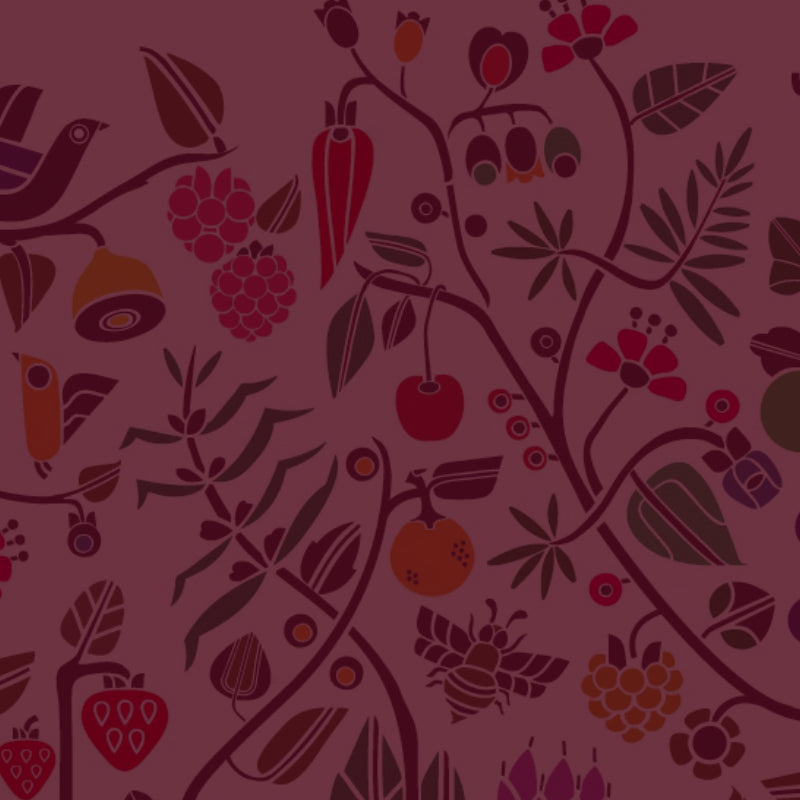 Here at Womersley Foods, we like to keep things simple, which is why we make our Vinegars and Jams with 4 simple ingredients: lots of Fruits, Herbs, Vinegar and a little bit of Sugar.
From the way we source our quality ingredients, mix them together and infuse the fruits and herbs with the base materials, our vinegars and jams are hand-crafted to the highest standard - just the way they should be to keep their natural flavours. Everything that we do at Womersley Foods is centred on our core principle of "enhancing your taste experience" to delight your taste buds. With so many products out there with unnecessary additives, we value the simplicity of our products and the enhancement it gives to any dish without diluting the original flavour. Want to enhance your taste experience? Explore our range of More Fruit, Less Sugar Womersley Foods Fruit & Herb Vinegars and Jams.
Our best selling Great Taste Vinegar
RASPBERRY FRUIT VINEGAR
Awarded Gold in the Great Taste Awards 2014 and 2018 and 2 Stars in 2023, our famous Raspberry Fruit Vinegar adds a crisp, fresh finish to any salad, dish or mix a dash in sparkling wine or drip on ice cream.
shop now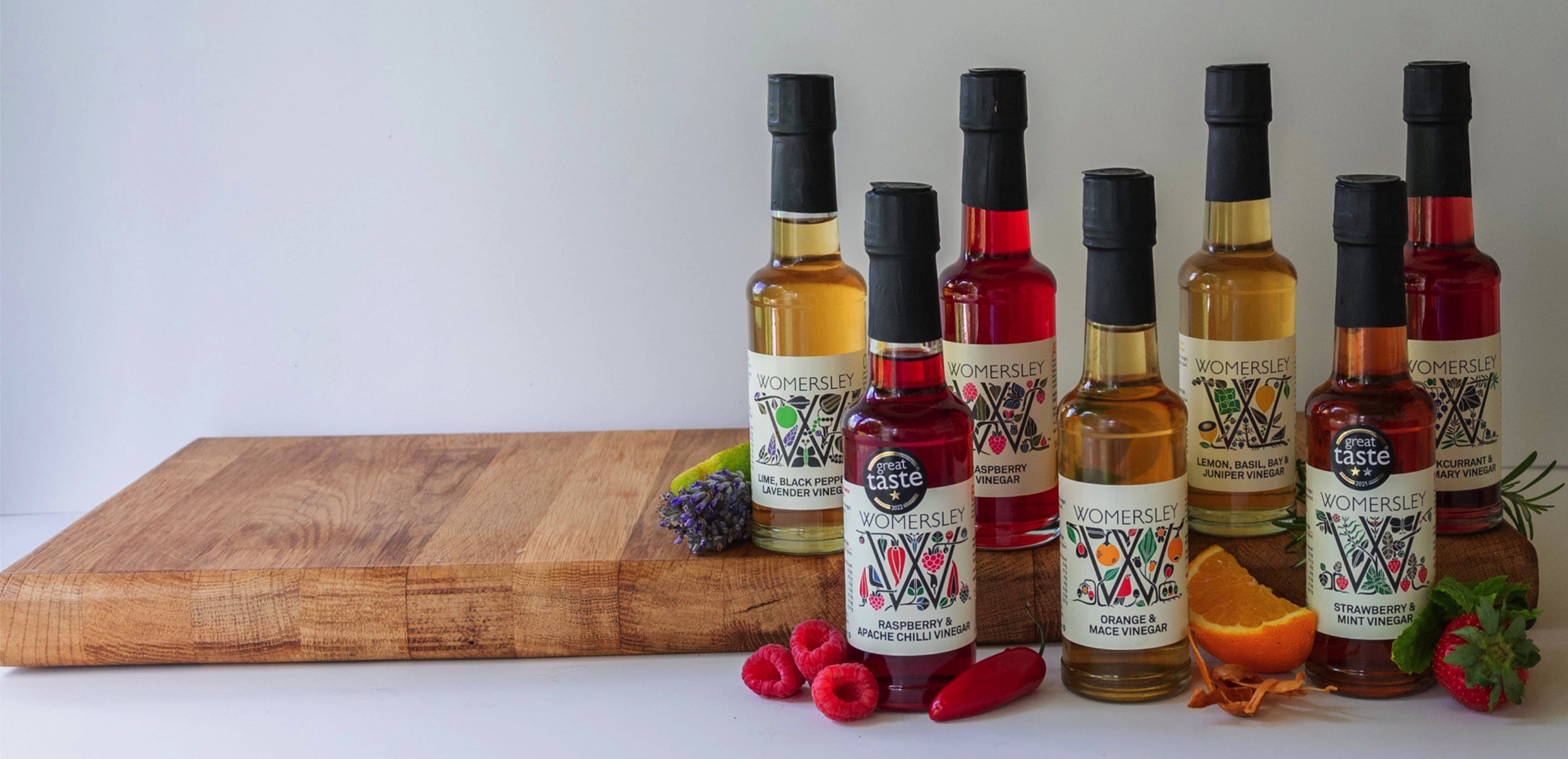 Surprisingly Delicious
Hand-Crafted, Less Sugar, More Fruits, Vinegars and Jams
Treat yourself to a delicious splash or drop or spread of Womersley Fruit & Herb Vinegars and Jams.
Our unique recipe infuses only the finest botanical ingredients to create eclectic medley of flavours in every splash or spread to enhance the taste of any meal or drink.
Shop Now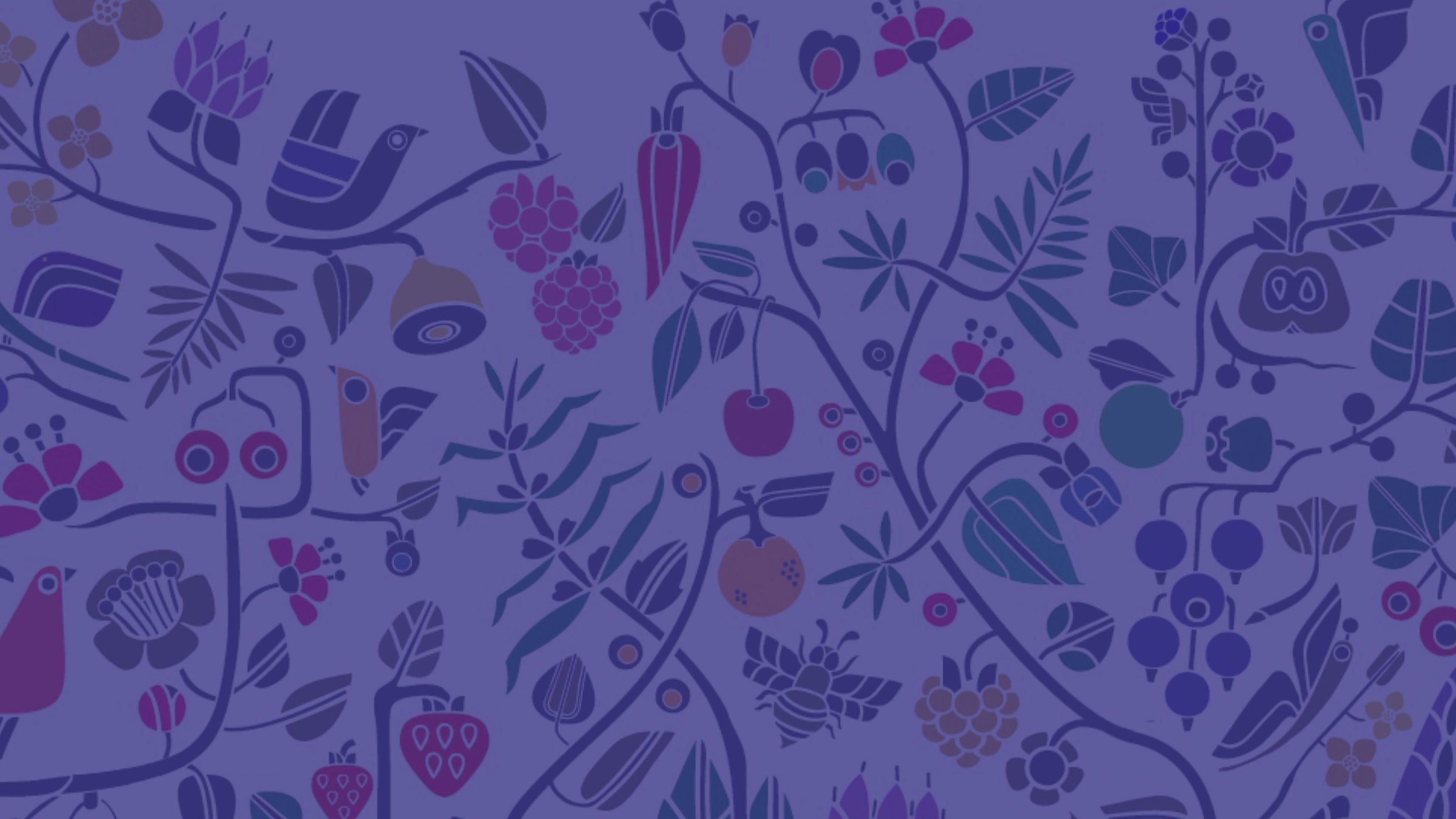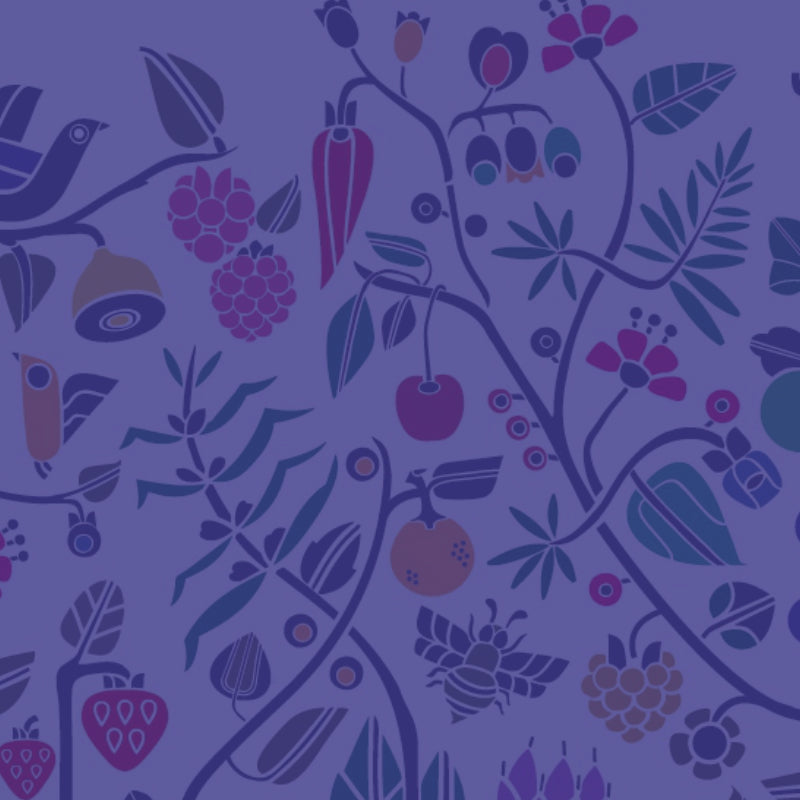 Created to delight your taste buds; Fruit Vinegars and jams
A Yorkshire Heritage rooted in history
Our versatile, eclectic and maybe slightly eccentric medley of Fruit & Herbs Vinegars and Jams will transform your food, enhance your taste experience and delight your taste bud by bringing the country to your kitchen. With a complex yet subtle flavour combinations, our products can be used to improve the flavour of your food, to preserve your food, fill in for missing ingredients, enhance your baking and much more - no kitchen cupboard should be without them. Always made from natural ingredients and bursting with real fruits. Our balanced recipes allow for maximum versatility in the kitchen for both professional Chefs and home Cooks alike, ensuring that the true aromas of all the fruit and herb flavours shine through.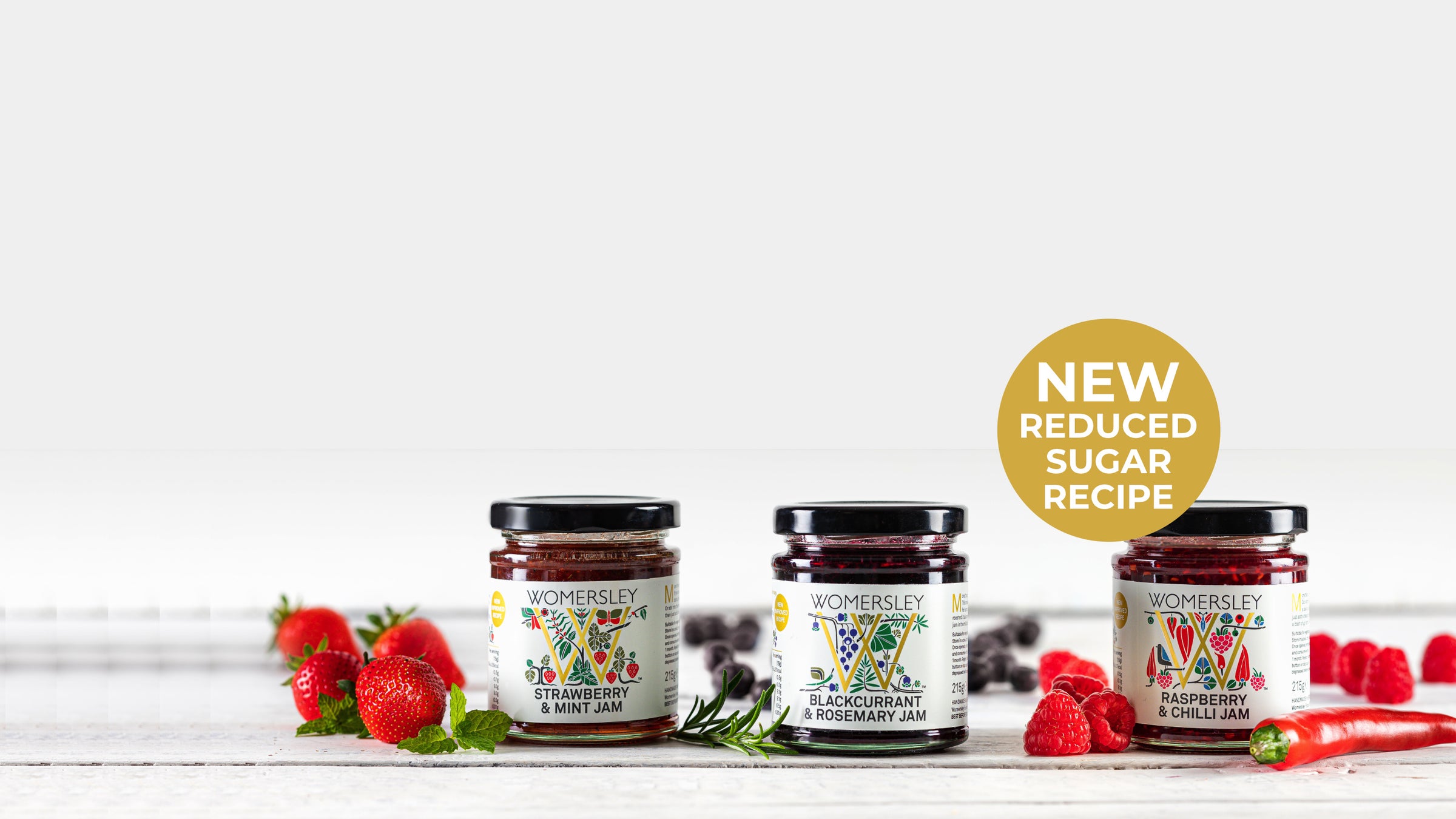 MORE FRUIT, LESS SUGAR
NEW REDUCED SUGAR RECIPE - LUXURY FRUIT & HERB JAMS
At Womersley, we are all about "enhancing your taste experience" without using any nasty stuff. Our new Fruit & Herb Jam recipe is packed full of more fruits to delight your taste buds. Made with up to 40% less sugar.
SHOP REDUCED SUGAR JAM

Foodie Gifts
For Everyone
Send the ones you love something deliciously fruity with our range of gift box sets. Not just for Foodies.
Shop For Gifts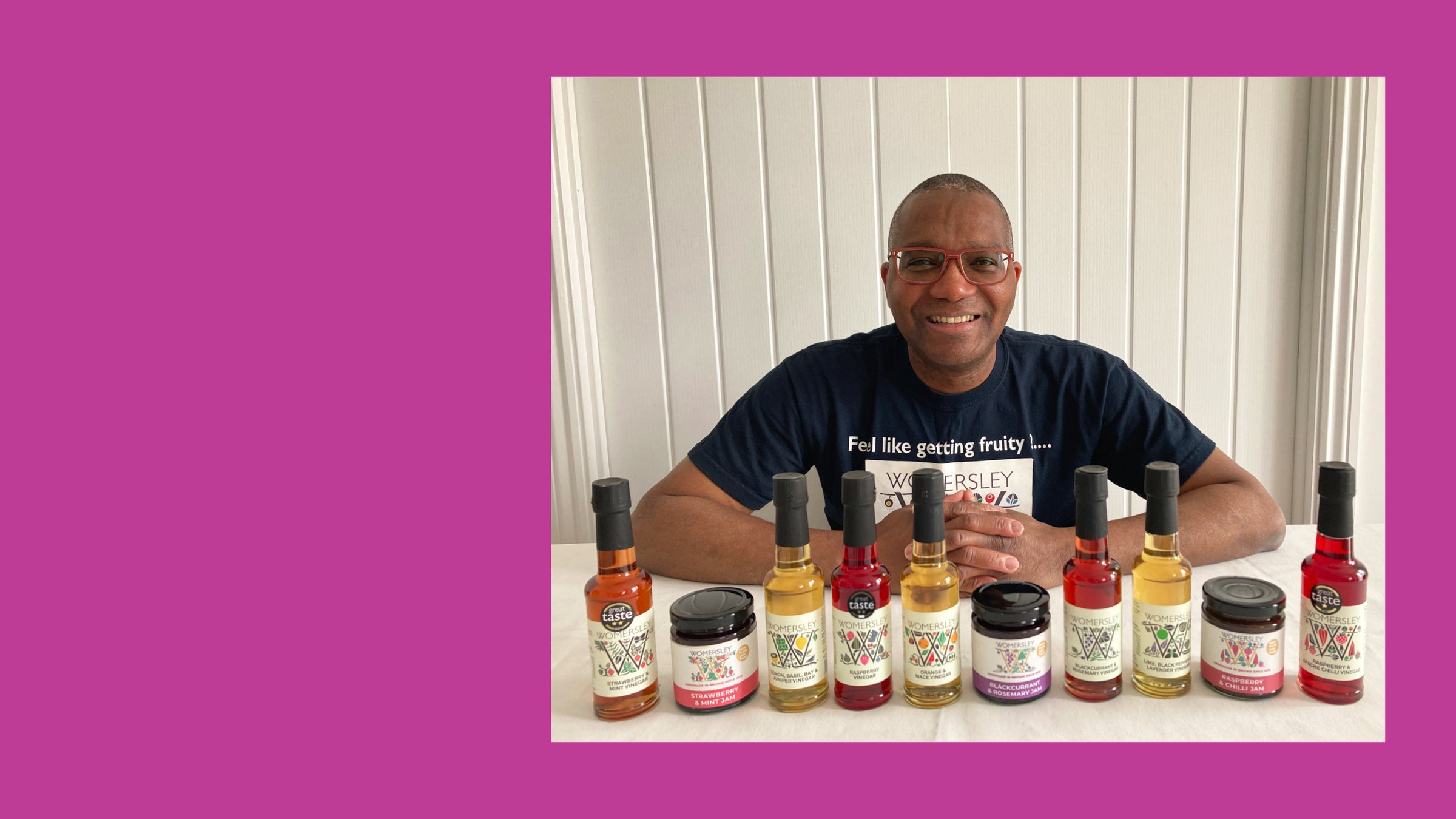 Meet Labaika
Womersley Fruit & Herb Vinegars and Jams, the surprisingly, deliciously and versatile ingredients you didn't know you needed in your kitchen.
With Womersley Fruit & Herb Vinegars and Jams, we have made it our mission to make cooking delicious foods simple.
Labaika's Story